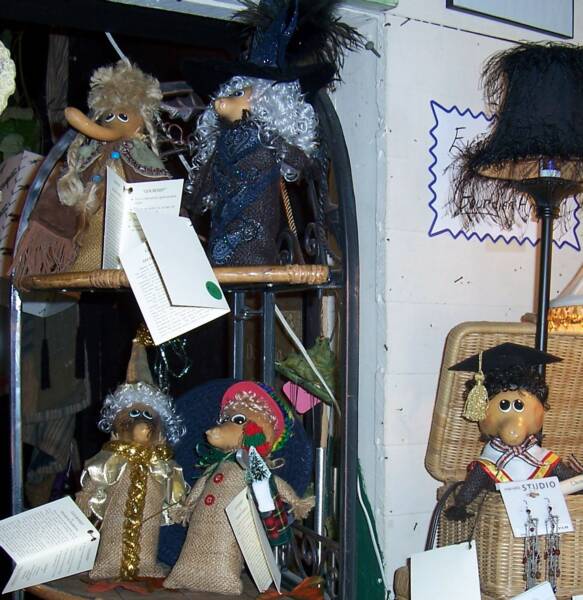 What's A Gourdie?

A friend to tell a secret to  ---

To bare your soul when you are blue ---

To share your dreams that can come true ---

Gourdie's unique and original

JUST LIKE YOU !

GOURDIES

by

SHARON BARRON


Sharon has taken something very old, the gourd, and created something new and unique - a "Gourdie".

The Gourdies were created with a specific meaning and purpose.  For Sharon, they are symbols of individualism.  Just as there are no gourdies alike, there are no people alike.  Gourdies are also friends to voice our inner most secrets.  Sharon says, "When a person learns to voice his or her feelings, even if it is only to a Gourdie, life becomes much richer."

The entire process for making the Gourdie is unique.  Even the clothing was designed without an indication of male or female in order that they might become whatever their owner wanted them to be.  (Because of public demand "Special Gourdies" were created and those Gourdies may have an indication as to gender, hobbies, occupation, etc.)  There are also several secrets to making a Gourdie and only Gourdie and Sharon know the secret.  She won't tell and Gourdie can't -- Gourdie doesn't have a mouth!
"GOURDIES"

*  Each is a hand painted, signed and dated original

*
They are not perfect (we all have our marks of life and

   growth)
*  They are loved and collected by all ages

*
  They are registered with the U. S. Patents and      

    Trademark office

GOURDIES

BY

Sharon Barron

P O Box 1-2-6

Mentone, Alabama

256-586-6404

256-634-4776

Warning: For decortive use only.  This is not a toy.

KEEP OUT OF THE REACH OF CHILDREN.